Activities
The Rainforest Retreat is all about harmony with nature. Many of our guests enjoy helping with the garden and other ongoing farm activities while others are content to find a hammock and a book from our library and soak in the lovely environment.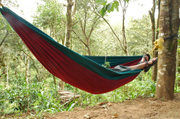 We offer a variety of activities such as guided treks along scenic hills and shola forests, an informative plantation tour, excellent birding, interesting night walks and slide shows. This area is also safe and accessible for self-exploration.

Our programs here are designed to enable you to appreciate the importance of biodiversity,
its relationship to agriculture, our daily lives and the future health of our planet.

Keeping domestic animals is an integral part of organic farming and a visit to the Animal House
is always enjoyable for children – especially when there are newborns.
All activities (except full-day treks and jeep excursions) are included in the cost of your stay. Full-day guided treks with packed lunch @ ₹1500 per person.
We can arrange transport to places like Talacuvery, Dubare elephant camp and Tibetan Monastery.